2

-4-

1


on Everything*
2-4-1 ON ALL STARTERS, SIDES, DESSERTS AND PLATTERS
(MIX AND MATCH WELCOME, YOU PAY FOR THE
MORE EXPENSIVE OF THE TWO)
2-4-1 ON MAIN COURSES
(MIX AND MATCH WELCOME, YOU PAY FOR THE
MORE EXPENSIVE OF THE TWO)
(includes Classic Mains, Steak & Grill, Burgers & Fries, Main Course's, Light Bites
& Salads, Pasta Dishes and 12" Pizzas)
*excludes 10" pizzas
Kids Eat for £1.50
VIRTUAL WINE TASTING
NEW DATE LAUNCHING SOON!
Why not be an early bird and grab your voucher today to secure a place?
Either drop us a message by clicking here or give us a call 01746766220 to get yours!
As usual, we want to offer you fantastic value.
Your £25 voucher will give you 9 x 187ml wines delivered to your door the day before the tasting.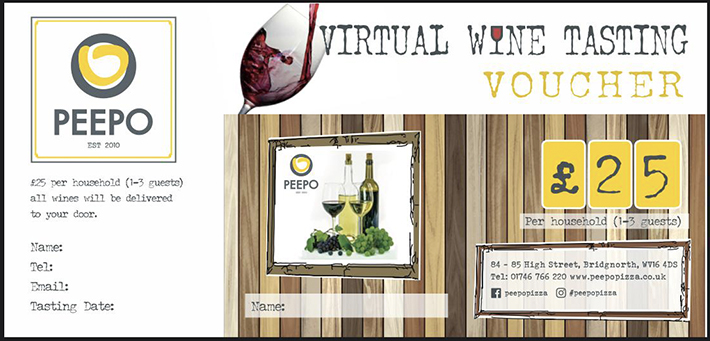 The virtual tasting will last around an hour and a half, hosted by Anne McKinlay, with over 30 years of experience in the wine industry, she really is a encyclopaedia of wine!
We have had a lot of interest so please contact us today
Call to place and pay for your order

If busy try us on
Kitchen Opening Times
Sunday - Thursday
5 - 8pm
 Friday - Saturday
5 - 9pm
Call up to 1hr before to Pre-order!
Minimum delivery order £30.
Home delivery service within 3–8 mile radius - Available during opening hours
We reserve the right to refuse delivery.
Please state full address and postcode at the start of your call. 
All deliveries are charged at £1 within a 3 mile radius (by road) from Peepo.
There is an extra charge for delivery over the 3 mile radius.
Starters / Sides / Platters / Desserts
Starters / Sides / Sharing Platters and Desserts

All 2-4-1 on everything, mix and match available

Duck spring rolls

Peepo's chips

served with garlic mayo, chilli & rosemary salt

Garlic Bread

with cheese £4.50

with cheese & chilli or rosemary £5.00

Brussels Pâté

served with toasted ciabatta and sweet onion chutney

French fries

served with garlic mayo, chilli & rosemary salt

Warm chicken, smoked bacon, black pudding

served with new potato salsa and a honey mustard dressing

Fish platter

to share

tempura king prawns, salt & pepper squid, whitebait & garlic bread with cheese

Sweet potato fries

with garlic mayo, tomato salsa & chilli & rosemary salt

Dressed house leaves

Beaman's black pudding scotch egg

with Papi Willepotte's sauce

Peepo platter

to share

chicken strips, mozzarella, garlic mayo

Buttered new potatoes

Crispy mozzarella sticks

Rocket, parmesan & tomato

Whitebait

crisp fried with garlic mayo & lemon

Beer battered crispy onion rings

Dough balls

Italian meat anti-pasti

to share

salami, chorizo, prosciutto, sun blushed tomatoes, goat's cheese & olives with warm bread with hummus

King prawns

garlic butter, lemon, parsley served with warm bread for dipping

Peepo cheesy chips

with melted mozzarella £3.95

with mozarella and smoked bacon £4.95

Halloumi fries

served with salsa, sweet chilli & garlic mayo

Camembert

to share

baked with herbs, served with sweet red onion chutney & dipping bread

Squid

salt & pepper fried with garlic mayo, sweet chilli & lemon

Tomato & red onion

Chicken strips

southern fried, sour cream & chive

Peepo's famous chips go posh

coated in parmesan and truffle oil

Chicken Nuggets (x10)

Homemade soup of the day

Served with fresh warm bread

Tempura king prawns

with sweet chilli and garlic mayo

Smoked haddock & bacon fishcake

Lotus Biscoff biscuit cheesecake

Salted caramel brownie
Classics MAY - 2021
Classics

Smoked haddock fillets

with crushed new potatoes, green beans, poached egg & mornay cheese sauce

12oz Beer battered cod

chips, peas, tartar & lemon

Sticky chicken breast

sweet chilli, spring onion, coriander, lime, fries & salad

Poached salmon, crayfish tails

crushed new potatoes, fresh greens, prosecco & butter sauce

Crispy peking 1/2 duck

sweet chilli, hoi-sin, french fries & salad

PERi-PERi 1/2 chicken

with salad, french fries/sweet potato fries/peepo chips and peri peri gravy

Mussels

cooked with white wine, cream & garlic with fries & warm bread

Homemade beef lasagne with chips or fries

with salad & garlic ciabatta

Roast mediterranean tartlet

on a bed of five bean chilli Vegan
Steak & Grill MAY - 2021
Steak & Grill

10oz Horseshoe gammon

served with fresh pineapple or fried egg, peas, peepo chips

6oz Minute steak

10oz Sirloin

6oz Fillet steak

All Steaks above served with roast tomato, garlic portobello mushrooms, Peepo chips & Papi Willepotte sauce

Why not add?

Port and shropshire blue cheese sauce

Peppercorn sauce

King prawns with garlic butter
Burgers MAY - 2021
Burger + Fries – All £9.95

All burgers are served with lettuce, tomato, garlic mayonnaise & tomato relish

Bangkok burger

pattie with chilli, coriander, hoi-sin & sweet chilli sauce Vegan

8oz Prime beef

Chicken fillet – (southern fried)

Why not add?

bacon, cheddar or blue cheese – £2 extra each
Light Bites & Salads - 2021
Main Course Light Bites & Salads

Greek salad

with feta, olives, tomato, cucumber & toasted ciabatta

Salmon fillet Niçoise salad

new potatoes, green beans, egg, tomato, olives & cucumber with French dressing

Halloumi, sun blushed tomato & new potato salad

with spring onion & walnuts

Chicken caesar

grilled chicken fillet, cos, parmesan, smoked bacon with caesar dressing

Warm hot smoked mackerel fillet

with tomato, basil & pesto salad

Smoked haddock & bacon fishcakes

with poached egg, spinach, lemon & dill butter sauce
Pasta Dishes MAY - 2021
Pasta Dishes

Macaroni cheese

rich cheese sauce with macaroni

add bacom/ chicken/ steak/ smoked salmon - £3 extra

Spaghetti bolognaise

rich traditional classic with garlic ciabatta

Mushroom tagliatelle

with white wine, garlic, mascarpone & thyme

add grilled marinated chicken breast or steak - £3 extra

Carbonara

spaghetti, smoked bacon, garlic, cream, mushroom, parmesan & egg

add grilled marinated chicken breast or steak - £3 extra

Smoked salmon tagliatelle

with white wine, cream, garlic & dill

Chicken & chorizo lasagne with chips or fries

with garlic ciabatta & salad

King prawn linguine

with fresh tomato, sweet chilli, coriander, spring onion & lemon

Wild mushroom, parmesan & truffle risotto

add grilled marinated chicken breast or steak - £3 extra

Potato gnocci, broccoli & spinach

in creamy four cheese sauce

add steak/ bacon/ grilled marinated chicken breast - £3 extra

Linguine with courgette, garlic, lemon, parmesan and cream

add king prawns/ steak/ bacon/ chicken/ smoked salmon - £3 extra

Sticky noodle & vegetables stir fry

Vegan

add crispy duck/ grilled chicken/ king prawns - £3 extra
Pizzas MAY - 2021
Pizzas

Margherita

tomato sauce, mozzarella & fresh basil

Mediterranean roast vegetable

tomato sauce, roasted vegetables, mozzarella, garlic & rosemary

Pepperoni

pepperoni, mozzarella, tomato sauce, jalapeño & fresh mint

Ham & pineapple

fresh pineapple, ham, mozzarella & tomato sauce

Sweet spanish sausage

chorizo, pork sausage, smoked bacon, tomato, mozzarella and spicy thai sauce

Spicy beef

spiced beef, peppers, mozzarella & jalepeños with ranch dressing & tomato sauce

Big piggy BBQ

smoked bacon, tomato sauce, old spot pork sausage, mozzarella & bbq sauce

Smoked salmon & king prawn

mozzarella, tomato sauce, sour cream, rocket, lemon & dill

Beef steak

seared steak, mozzarella, tomato sauce, blue cheese, red onion & rocket

Ham & mushroom

with garlic, mozzarella, tomato sauce & balsamic reduction

Italian stallion

pepperoni, mozzarella, milano salami, prosciutto ham, pork sausage, chorizo, marinated olives, rocket & tomato sauce

Chicken pesto

chicken breast, mushrooms, tomato sauce, pesto, mozzarella & parmesan

Mucho meat

pepperoni, pork sausage, beef bolognaise sauce, pesto chicken & ham, tomato sauce, mozzarella & parmesan with or without jalapeño peppers

Duck

asian duck breast, tomato sauce, mozzarella, cucumber, coriander & spring onion, served with hoi-sin sauce

We stock

vegan cheese, dairy free milk

, gluten free pasta and pizza bases
Kids Meal Deal - 2021
Kids Eat for £1.50

PIZZAS

choose either - Margherita | Pepperoni | Ham and pineapple

PASTAS

Spaghetti bolognaise | Macaroni cheese | Pomadoro (homemade tomato sauce) spaghetti
Takeaway - Cocktails
Cocktails – £5 Each

AVAILABLE FOR DELIVERY ONLY

By Law alcohol can not be collected from Peepo, it must be delivered

2 for £9 | 3 for £13 | 4 for £16 5 for £21 | 10 for £40

All 250ml

(DOUBLE MEASURE - 50ml IN EACH)

Grapefruit Gin Quarantini

PornStar Martini

Pineapple Gin Sour

Long Island Iced Tea

Espresso Martini

Tropical rum punch

Bramble

Brandy and Caramel Alexander

Whiskey sour

Mojito

Peepo pink

Elderflower and cucumber Collins

Aperol Spritz

Woowoo

Cosmopolitan

Amaretto Sour

Rhubarb & Seville Orange Gin

Strawberry Gin Fizz

Whiskey Collins